Getting Caught Up On Recent Events, Weekend Trip To California, & An Announcement
Lately I've been kinda busy and have let this blog slide, so I again have a backlog of news and will need to play catch-up a bit before getting to the BIG NEWS.
Things have been getting serious between Michelle Navalance (the new girlfriend) and I. About Michelle...she recently moved here from Southeastern Louisiana to take a job as a speech pathologist in Silsbee. She has never been married, has no children, doesn't live in a trailer, has read other books besides the bible, graduated from high school AND college, and has a full set of teeth. In these parts that makes her a remarkably rare find. Plus she is a sweet wonderful person and inexplicably seems to be crazy about me.
Michelle and I in Mandeville, LA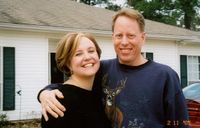 A few weeks ago we made a little trip to Louisiana to meet her family and friends. Her mother lives in Mandeville, a suburb of New Orleans, so I also got a quick tour of the city. We visited the cemetary and tomb where her family members are interred, walked through the French Quarter, ate beignets smothered with spoonfuls of powdered sugar at the Cafe du Monde, drank hurricanes at O'Brien's, and did additional obligatory drinking on Bourbon Street. The next day there was a party at her mom's house in Mandeville. Everything went well and I guess I passed the first test.
Where Navalances go when they die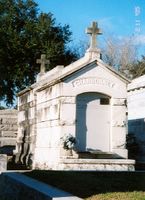 Not a small church, but a large tomb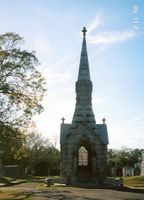 Over this past weekend we made a trip to California so she could meet my family. We were flying standby (more like standing flyby), and missed the first two flights into San Francisco because there were no available seats. We were hurrying through the airport to try and catch a late flight into Oakland when Michelle spotted another flight leaving for San Francisco, and thanks to her eagle eyes this time we got lucky. We were the last two passengers to board that plane.
Because my parent's house is being remodeled (a.k.a gutted) we opted to stay at a motel. Of course I spared no expense, and got a room at the Motel 6 off Highway 17 in Campbell. We were awakened at about 4am by a man in the adjoining room (separated from us by only a door) who was speaking loudly in an unrecognizable Eastern European language. Apparently it was conference call time in Bulgaria. Some shouting, a few choice obscenities, and a call to the front desk eventually resolved the problem. Ironically we had stressed that we wanted a quiet room...
Friday we went down to Monterey. Along Uvas Road we stopped for Yellow-billed Magpies and a Golden Eagle (yes, I'm ALWAYS birding). Our route took us past wineries and through the redwood forest at Hecker Pass. Michelle had never been to California before, so it was all new and exciting for her. At Moss Landing we stopped to see the Sea Otters and Harbor Seals. At the Coast Guard Pier in Monterey I had expected to see the usual mob of California Sea Lions hauled out on the breakwater, but was surprised to find a nesting colony of Brandt's Cormorants there instead, with birds wing-flapping and displaying their blue gular pouches. As crowded as the Monterey Bay Aquarium was on a Friday I'm glad we didn't go on a Saturday or Sunday! It wasn't that awful, and we got to see the resident Great White Shark and an awesome jellyfish exhibit.
Michelle at Moss Landing
On Saturday Michelle and I went to San Francisco. First stop was the botanical gardens and Japanese tea garden in Golden Gate Park (Allen's Hummingbirds, Pygmy Nuthatches, Townsend's Warbler...yes, I'm ALWAYS birding), followed by a tour of Alcatraz, light shopping and pizza consumption at Pier 39, and serious shopping and dinner in Chinatown.
Afterward I took her across the Golden Gate Bridge to the Marin Headlands. As the sun was setting we walked up to the highest point on Hawk Hill to look back at the Golden Gate Bridge and lights of San Francisco. In the fading glow of evening we had the summit and view completely to ourselves...and then I got down on one knee, presented her with a ring, and asked her to marry me. She accepted, I think. Wrentits were singing in the scrub below us - as I said, I'm ALWAYS birding. So that's my big news (the engagement announcement, not the Wrentits). Our wedding date is set for January of next year, so we both still have time to come to our senses.
View from Hawk Hill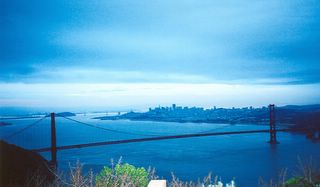 On Sunday Jolene joined us for a whale watching trip on Monterey Bay. Outside the sheltered bay waters the ocean was a bit rough - when I say rough, I mean like being inside a washing machine. The highlight was finding a BIG school of dolphin. And when I say big, I mean there were thousands. I'm not exaggerating. Most were Risso's Dolphins, but we also had Pacific White-sided and Northern Right Whale Dolphins riding the bow waves. It was a great show, even if some people did respond by losing their cookies.
Risso's Dolphins!
Pacific White-sided Dolphin!
Whales were more elusive, but again we lucked out - as we approached the harbor a couple of young Gray Whales were spotted, and we chased them around for a while. It wasn't a good day for pelagic birding, and our best bird sighting of the day was a male Harlequin Duck seen from Fisherman's Wharf in the morning.
Michelle catching some spray on the boat
Then it was dinner at Abalonetti's, souvenir shopping along Cannery Row, and a spectacular drive down the Big Sur Coast. It was raining heavily when we came back that night over Highway 17. On Monday we caught a flight back to Houston, and Troy met us at the airport. We had some dinner and then waited with Troy to meet Bob (a mutual friend of ours now living in Switzerland), who was also arriving at the airport that evening, although under much less happy circumstances.
And now I'm back in Texas with a sneezing cold, getting ready to drive up to Jasper where I'll be working tonight.